The Blessings
As the Violin travels around the world, we ask everyone we meet to bless it. These "intentions of peace" by all walks of life are in our opinion changing the sound of the violin. It continues to get more beautiful. People have reported feeling the violin's energy as well and some have reported being healed after touching it. Our hope as more people bless it and send energy to it, the violin will gain strength and heal the world.
This page will be a collection of people who have blessed the violin and the stories they share.
Jane Goodall

On the 70th Anniversary of The United Nations and the International Day of Peace, Jane Goodall along with Yo-Yo Ma proclaimed the World Peace Violin an official and important symbol of peace.
Michael Tamura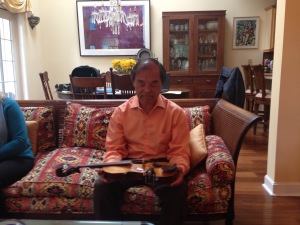 Dear Patrick,
I hope that you are safely upon the next leg of your ever-unfolding adventure, this time to New York. Thank you so very much for giving us the opportunity to experience you and your divine instrument of peace. It was a profound experience and I'm delighted to have a chance to get to know you more. It seems that I've known you a long time and happy for the reunion.
I've written a little blurb from my experience of your violin and attached a pdf version below. May the blessings of Divinity continue to shower upon you and your work.
With gratitude, love and laughter,
Michael (Link to Michael's site)
See PDF from Michael called A Miracle Instrument of Peace.